Alarm system in your Enterprise! (JA-100)
Why choose Handy's for your business alarm?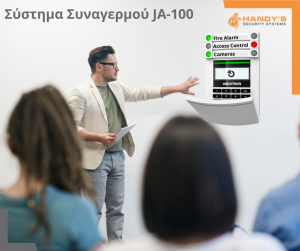 1. Why Handy's will come to evaluate your space and will suggest the right package for your real personal needs.
2. We will consider:
Your space,
The necessary measures will be taken and
We will take into account your preferences and your pocket!
3. YOUR OWN PACKAGE WILL BE CREATED! It will not be another standard alarm system! It will be an alarm created especially for you, your business, your real needs!
4. Because we can study the needs of your space, and give you a complete picture of installing the most appropriate security system for your business.
5. Because we will come to your place safely, taking all protection measures and install the alarm system that will obey your needs and the needs of your entire business.
6.We offer the safest installation and maintenance EVERY YEAR.
7. We provide assistance to our customer on a daily basis 24 hours, 7 days a week for anything needed.