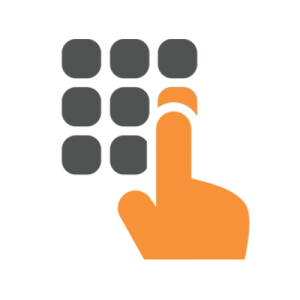 Expandable     

Battery Operated
You can employ the JABLOTRON 100+ alarm at small as well as large premises and besides security, it also provides you with smart functions. The entire system can be controlled remotely via the MyJABLOTRON app and connected to an Alarm Receiving Centre.
24/7 alarm monitoring
When your Handys alarm is activated – day or night – a signal is sent to our Alarm Monitoring Centre, and always responded to. This is especially important when commercial premises are unoccupied, as that's when the majority of alarms happen.
REAL SECURITY AND WIDE APPLICATION RANGE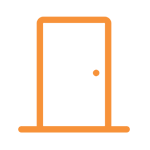 7 REASONS TO CHOOSE JABLOTRON 100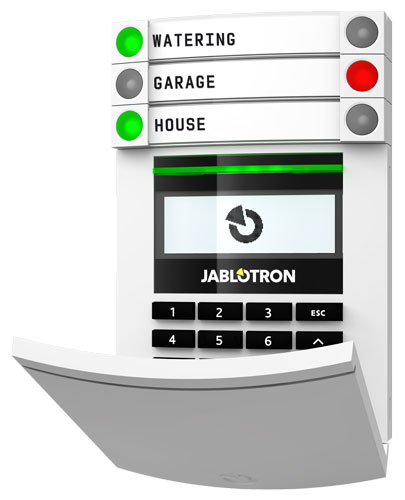 Easy to control

– Thanks to the revolutionary control system the JABLOTRON 100 is the first alarm which you will immediately understand and never fear. Choose an alarm developed to serve people!

Timeless design

– The design of the individual alarm devices of the JABLOTRON 100 has been developed in cooperation with firstclass designers. So, discover beauty that harmonizes with your home!

Tidy installation

– By its combination of wireless and wired devices JABLOTRON 100 installation spares both your house and your purse. Benefit from the unique wireless technology of Jablotron!

Multifunctional use

– The JABLOTRON 100 will protect you not only against robbers, but also against fire, floods or gas leaks. The system is able to control your heating or open your garage door for you. So, make full use of the state-of-the-art technology!

Accessible anywhere

– You can remotely access your JABLOTRON 100 alarm thanks to free-of-charge internet control from your computer or smart phone from anywhere. Control your alarm and view events without limits.

Freedom of selection

– The JABLOTRON 100 alarm offers absolute freedom of selection adapted to your needs. The system offers a solution for residential apartments, summer cottages, family houses, offices as well as manufacturing halls. Plan its size as you wish!

Real security

– A quality alarm also requires professional installation and an assurance of real security cannot do without continuous monitoring and a response to alarm triggering.
ADDITIONAL PROTECTION AGAINST WATER, FIRE & GAS

FLOOD
A detector registers a water leak and the system closes its supply. This way, possible flooding and bigger damage can be prevented.

FIRE
A sensor identifies smoke or an increased temperature in the room. The alarm immediately activates a siren and informs the Alarm Receiving Centre, which will summon the fire brigade.

CO GASES
A detector detects a gas leak and a siren warns you loudly before your health is put at stake.

FLAMMABLE GASES
A detector is able to recognize the leaks of flammable gases such as natural gas, propane and butane. The system immediately triggers an alarm, closes off the gas supply and activates ventilation.
SAMPLE ALARMS INSTALLATIONS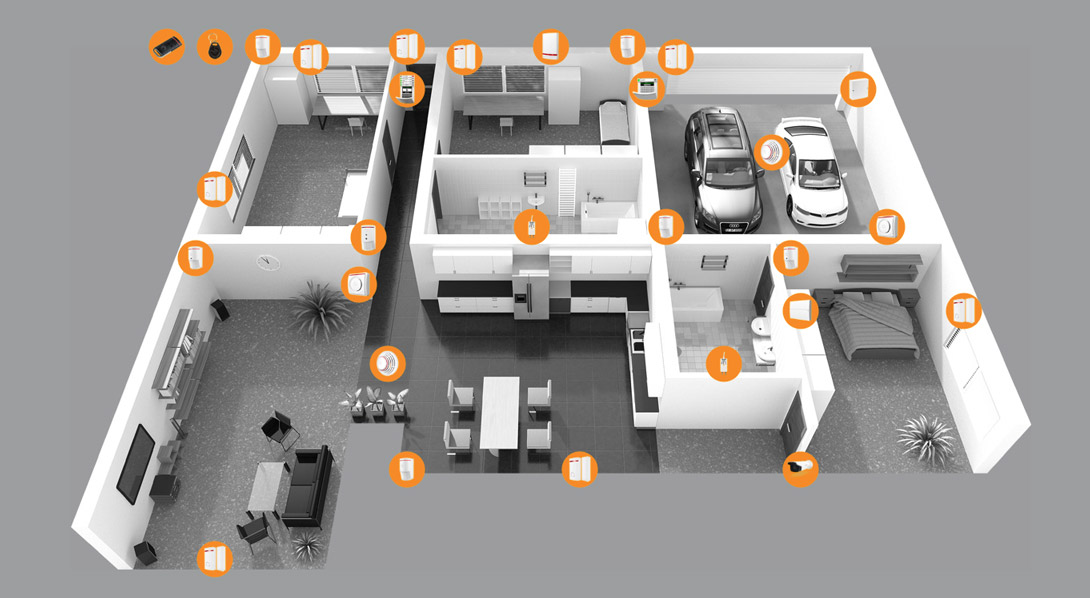 200 thousand
people control Jablotron alarms via the MyJABLOTRON app.
128 devices
You can control up to 128 devices in your house or garden thanks to the JABLOTRON 100+.
7 years
For all products, besides the 2-year warranty, you also get up to 5 years of extended servicing support.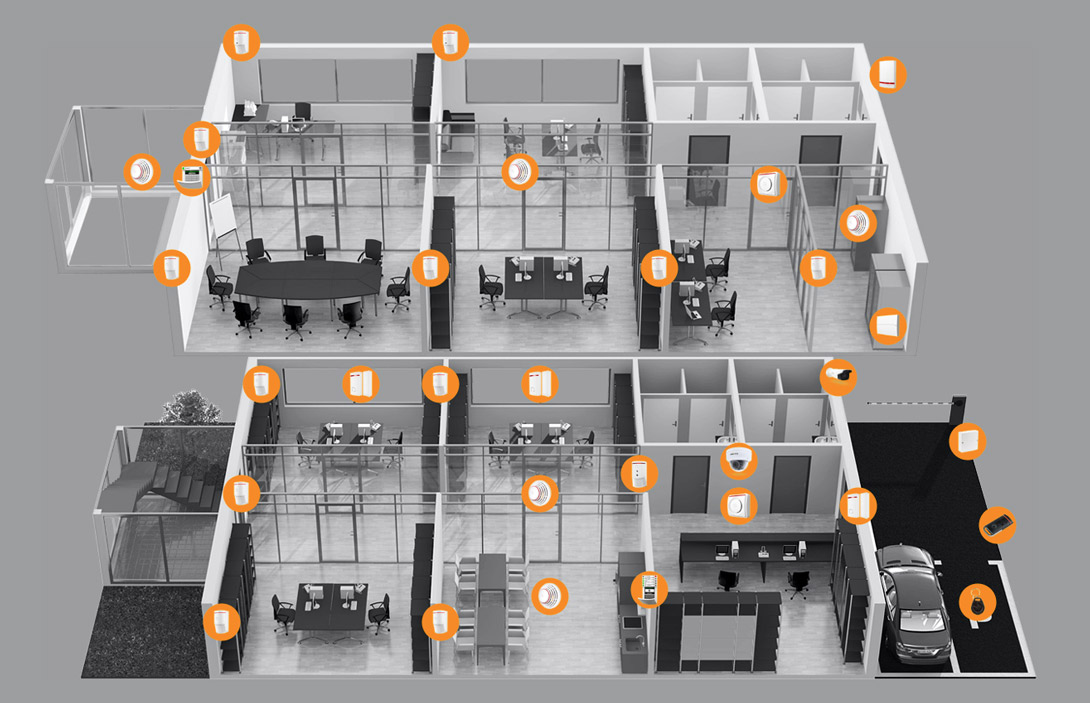 200 thousand
people control Jablotron alarms via the MyJABLOTRON app.
600 users
The number of users able to control our alarm system by a chip or a code.
7 years
For all products, besides the 2-year warranty, you also get up to 5 years of extended servicing support.
4 WAYS TO CONTROL JABLOTRON 100+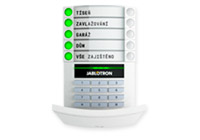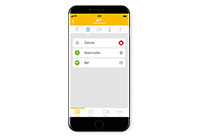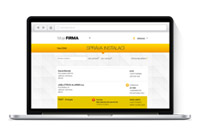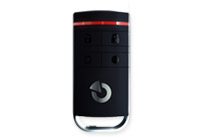 SECURE HOME
Make your home a safer place and enjoy a feeling of true peace. JABLOTRON 100+ alarm will protect your whole house as well as turn on the lights, open your garage door or start an irrigation system.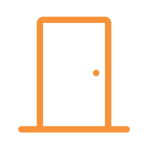 SECURE APARTMENT
Make sure everything's all right at home. The JABLOTRON 100+ alarm system will protect your apartment as well as turn on the lights or lower the blinds. You can control it remotely thanks to the MyJABLOTRON application.

SECURE COMPANY
Whether your most valuable assets are machines or computer data, it is necessary to secure them. Thanks to the JABLOTRON 100+ alarm system, you won't have to worry about unauthorised access.

PRODUCT MAP
Illustrative diagram only, does not show wiring instructions! The product map does not list the entire range, please visit www.jablotron.com for a complete overview.

USER MANUAL
This system is a unique flexible indoor solution for commercial and home security that offers the use of both wired and wireless devices. The JABLOTRON 100+ is very easy to control.