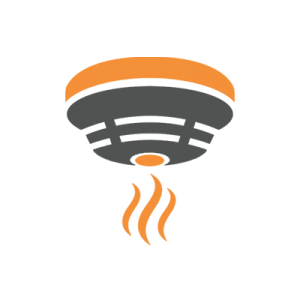 We offer a wide range of security fire alarm systems for buildings, hotels, apartments and home property. Don't worry if you have no provisions; we can also offer you a wireless security fire alarm. We offer all range of fire alarm system panels, low-cost convectional fire systems, to a more sophisticated digital analogue addressable fire alarm system to cover larger building approved by VDS Inspection Services, Europe's leading FIRE protection. We follow the EN 54 Fire detection and fire alarm systems European standards that include product standards and application guidelines for fire detection and fire alarm systems as well as voice alarm.
ALL IN ONE DEVICE SMOKE DETECTOR
We offer an all in οne device smoke detector, heat, smoke or heat & smoke to cover all your preferences, so you don't have to worry if the smoke detector will trigger a false alarm in the kitchen as you can set the detector to heat. Big headache if you are a hotel manager, think again! You can set the detector to react accordingly, e.g. fireplaces, room, kitchen, sauna room, bars, etc. Other devices include manual call points, no need to replace the glass. Furthermore, enjoy a modern design white or red electronic sounder.
With over 20 years of experience and having installed over 10,000 security system. Our qualified installers  will ensure that installation is done according to the highest standards; we also offer a 24 /7 monitoring station for your security fire alarm. If you are a health & safety manager or owner, you must ensure that the fire alarm system in your building is fully functioning and maintained daily; rest assured, Handy's Security will monitor this for you. When a fire breaks out, the fire alarm is as near as ready to trigger immediately  and notify our operator to act accordingly, e.g. contact fire authorities,etc. Our priority is to protect you and your loved ones from any accidents leading to fire or smoke!